KIRUHURA DISTRICT COMMUNITY MOBILIZERS RECEIVED BICYCLES
Publication Date:
Thursday, September 15, 2016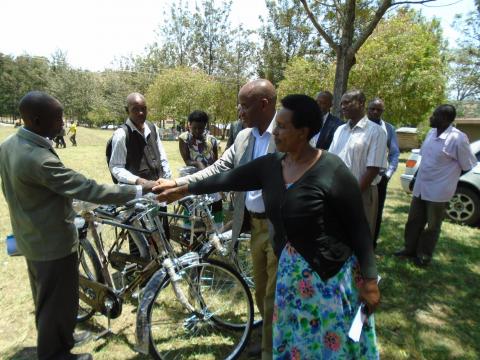 The District Chairperson (in the Middle) Rev. Samuel Mugisha Katugunda
handling over 4 biclcles to Field Community Agents.
Kiruhura District Local Goernment in partnership with IDO an NGO working in the district to mobilize local communities to start up self help projects aimed at improving socio-economic welfare of the community residednts. The program focuses to distribute 21 bicycles to Field Community Agents with the duty to mobilize communities to benefit from savings and internal lendings. So far 4 Field Agents were handled over with new bicycles to start execution of their mandate. The function was presided over by the District Chairperson Rev. Samuel Katugunda in witness of Secretary for Finace Hon. Kazaarwa Oliver, the Deputy RDC Lauben Nyakatemba, officials from the IDO project, TPO an NGO charged with children affairs, ICOBI and district heads of department. The function took place at the District Headquarters.